World War II Dispatches and Letters of U.S. Marine Corps Combat Correspondent Claude R. "Red" Canup
Review by Capt Jack T. Paxton, USMC (Ret)
Reprinted courtesy of Leatherneck Magazine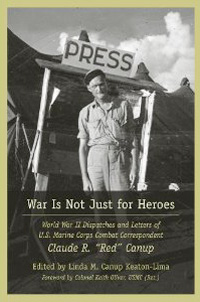 At the outbreak of World War II, Brigadier General Robert L. Denig Sr., then heading the Marine Corps' Department of Public Relations and tasked with finding experienced reporters, photographers and broadcasters to cover the Pacific campaigns, put out the word to civilian newsmen: Make it through boot camp and we will make you sergeants and send you to the Pacific.
Two years later a 33-year-old sports editor from South Carolina answered the call. His friends in Anderson, S.C., thought Claude "Red" Canup was several bricks shy of a full load. No spring chicken, Red made it through Marine Corps Recruit Depot Parris Island, S.C., and soon found himself attached to Marine Aircraft Group 45, Fourth Marine Aircraft Wing and on the tiny atoll of Ulithi, soon to be in support of Iwo Jima combat operations.
The first order BGen Denig gave to his new group of correspondents in 1942 was, "[G]ive most of your time to the enlisted man, what he thinks, says and does. If Pvt. Bill Jones of Cumberland Gap wins the boxing title, tell the people of Cumberland Gap about it."
Canup took this to heart and, by wars' end, had produced 398 "dispatches" about Marines of his unit for various hometowns across America. Fortunately for us, Red was a pack rat and kept copies of everything he wrote.
Now, 68 years later, his onion-skin dispatches are brought to life in the book "War Is Not Just for Heroes," edited by Red's daughter, Linda Canup Keaton-Lima. This work has captured some of the best reporting of flight operations ever to come out of World War II. More interesting is how and why this combat corre­spondent came to produce them.
You can almost see Red perched on the wing-root of a shot-up fighter jotting down the pilot's thoughts when he engaged the Japanese Zero. He would be equally at home writing about parachute riggers or a Marine pilot who inadvertently became a military "pinup" winner of a girl's college contest. Calling him prolific is an understatement.
Red also kept a daily log of happenings on Ulithi and wrote highly descriptive, hu­morous narratives in letters home. The letter writing carried over to the Okinawa campaign and the occupation of Japan.
His first dispatches, plus his letters home, quickly proved that Okinawa was a different ball game than Ulithi. To his brother: "Things have been rough, and a few nights I dared not leave my hole in the ground."
Typical of his dispatches was this one about a new air ace: "Capt Floyd C. Kirkpatrick, 26, flying with the Black Jack squadron of the 2nd MAW, recently became an ace. Shooting down three enemy planes from his Corsair plus the two and a half kills from the Samoan area gives the pilot ace status. He is a graduate of Klamath Union High School and attended the University of Oregon, commissioned April 1942." Short, to the point and exact­ly what his bosses at Headquarters, U.S. Marine Corps expected.
Red's tent soon took on "formal" trappings as the Okinawa Press Club, operated by then-Staff Sergeant Canup, fellow Marine combat correspondent Sgt James Driscoll and combat photographer Technical Sergeant Charles V. Corkran. During the shelling, bombing and strafing of Yontan Airfield, civilian and military cor­respondents alike crowded into a "family size" foxhole in back of the press tent along with visiting pilots. It would be at this tent that Red would later interview Marine pilot First Lieutenant Tyrone Power, former Hollywood great, and Captain James "Zeke" Swett, an ace credited with 16½ planes, landing there after his carrier, USS Bunker Hill (CV-13), was disabled by the Japanese.
Red's writings were not confined to war action. At war's end and just before his promotion to technical sergeant, he reported from Yokosuka, Japan, on the for­mation of the Tokyo Bay Masonic Club and wrote vivid descriptions of the decimated cities, as well as interviews with recently released Marine prisoners of war. As interesting and as prolific as his dispatches were, perhaps equally interesting is Red's commentary on the day-to-day life of a correspondent in a Marine aviation unit in WW II.
Throughout "War Is Not Just for Heroes," Red offers his own accounting of what it was like to be a somewhat overaged Marine given the great opportunity of reporting from a war zone. His wit and wisdom make this a great read, and we can thank his daughter for having the perseverance to see it through to publication. In this centennial year of Marine aviation, this book is even more relevant.
On a personal note, I met Red in the late 1980s long after my Marine retirement. During the next 10 years or so of his life, we kept up regular correspondence and, after my retirement to Florida in 1994, he would often call me from a restaurant on nearby Interstate 75, asking if I wanted to have lunch "with an old redhead" and his wife who were on their way farther South. I'm sure restaurant onlookers thought we were nuts because most of his stories kept the three of us old-timers in stitches, and Red always had a story to tell.
Note: Written by Canup and edited with a preface and prologue by his daughter, Linda M. Canup Keaton-Lima, War Is Not Just for Heroes – the only known collection of any World War II combat correspondent's writings – combines documentary and biography with humor and recovers the overlooked life of a representative combat correspondent during World War II.