President's Notes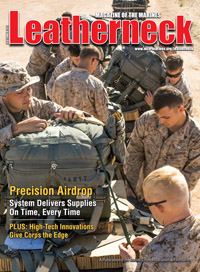 Lance Cpl. Roderick Jacquote was our latest cover shooter for Leatherneck, capturing an image for the September "Magazine of the Marines."
The shot featured Marines hard at work prepping precision airdrops during training at MCAS Yuma – demonstrating that the Corps is still very much in the parachute business (as it was in its infancy when CC legend, the late Col. Tom Fields, was commanding infantry units in the 1940s).
Jacquote, from Sugarland, Texas, said he is "inspired by the individuals striving to better the field … and the predecessors who laid the foundation for what we have pride in today."
His OIC, lst Lt. Adam Miller, calls Jacquote "by far one of our best."
Other notable work in the current issue featured Sgt. Lucas Hopkins' well done story and photos on Task Force Southwest (Afghanistan) and some eye-grabbing photography by Sgt. Rodion Zabolotiny.
And, "Bravo Zulu" to Staff Sgt. Linda Scott, for her award-winning historical piece ("The Tide Turns at Belleau Wood").
Meantime, the Naval Institute's September Proceedings was featuring expeditionary imagery delivered by Gunnery Sgt. Robert B. Brown and Cpl. Zachery Laning (whose creative eye has been mentioned here before). The shots accompanied Major Nicholas Nappi's piece, "Sri Lanka is an Open Door to the Indian Ocean."
Retired Col. Katie Haddock received kudos from none other than former President George W. Bush in the acknowledgements of his newly-released Portraits of Courage.
He singled out Katie and former JCS Chairman, retired Gen. Pete Pace, for "helping set the tone of this book" – a unique project that featured the author's paintings of wounded warriors along with detailed written insights on each veteran featured.
Congratulations to recently-promoted Lt. Gen. Stacy Clardy, serving as Military Deputy for Readiness to the Undersecretary of Defense for Personnel and Readiness. The general was the Community Relations Branch Head at the Division of Public Affairs as a major, and put his PA skills to use on subsequent occasions as a combat-deployed, senior infantry commander and in sensitive communications with the Japanese as the U.S. continues to sort out those special challenges inherent to training on Okinawa.
Finally, please spare a few prayers for 1980s CC, Ray "Ray the Barber" Adams of Eustis, Florida, who is hanging tough (and still cutting hair) following a Stage 4 Brain Cancer diagnosis. Treatments continue. The bigger news, from Ray's perspective, was his marriage last month to the love of his life, Anne.
— Keith Oliver, National President