The USMCCCA Board of Directors has announced that Maximilian Uriarte, AKA Terminal Lance, is the 2017 Brig. Gen. Robert L. Denig Sr. Memorial Distinguished Service Award winner.
If the name does not immediately come to you, we would bet a year's membership he is known by thousands of Marines who saw similar actions in Iraq and Afghanistan. He caught our attention several years ago with his weekly strip in Marine Corps Times. When his book, The White Donkey, Terminal Lance, was selected a 2016 winner in the recently concluded Heritage Foundation competition, we had a chance to read it. As a Marine who has been around a long time, we finally really understood what PTSD and our concern over the suicide rate among servicemen and women was all about. It is a powerful work.
CC Life member Chas Henry made the Denig nomination. His words: "In 2016, Mr. Uriarte — using crowdsourced funding — independently published The White Donkey: Terminal Lance — the first graphic novel created by an Iraq War veteran. Its success was so immediately evident that — 72 hours after its initial release — the book was optioned for commercial publication by Little, Brown and Company.
"Mr. Uriarte joined the Marine Corps in 2006, at age 19 — enlisting as an open-contract infantry Marine. His initial service was as an MOS 0351 assaultman with 3rd Battalion, Third Marines. He deployed twice to Iraq in support of Operation Iraqi Freedom — the second time attached to an infantry battalion as it's combat photographer and artist (Ed. Note: He retained his MOS 0351) While still on active duty, Mr. Uriarte created the often satirical, always entertaining and popular comic strip Terminal Lance. Discharged in 2010, he used GI Bill benefits to fund his earning of a bachelor of fine arts degree from the California College of the Arts. He has worked as a motion picture storyboard artist.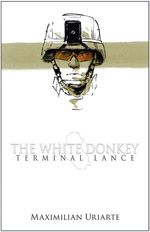 "In The White Donkey: Terminal Lance, Mr. Uriarte has masterfully employed a comparatively new form of artful literature to skillfully and unsentimentally capture and share essential aspects of life as a combat Marine. Having been only nominally familiar with the graphic novel medium, I have to admit to being surprised by the weight of The White Donkey's emotional impact. It brought tears to my eyes. Mr. Uriarte's work depicts the sometimes profane, but very profound interactions of young Marines maturing in the forge of war. It is without question a valuable contribution to the body of literature perpetuating the ideals, traditions, stature and achievements of the United States Marine Corps."
(Ed. Note: Mr. Uriarte will accept the Denig Award at our awards banquet August 23 at the San Diego Crowne Plaza Hotel. )