President's Notes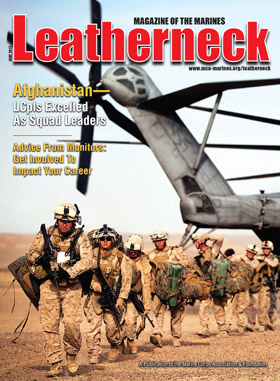 Perennial CC award winner, Staff Sgt . Reece Lodder, nabbed another Leatherneck cover this month.
Editor Mary Reinwald chose Lodder's strong vertical from 2012 operations in Afghanistan to highlight Aaron Fenwick's tale of three lance corporals whose infantry squad leader work. in the Helmand Province earned them meritorious promotions to corporal. The trio was serving under fire in sergeants' billets.
Elsewhere in the May issue, P.L. Thompson, one of the merry band of Marines who served on the Leatherneck staff while on active duty, penned a piece on former Pfc. Omer Hadsall's return to Vietnam along with his son, retired Maj. Troy Hadsall. The father and son are but two Marines who are part of an impressive Hadsall Family legacy of service in our Corps.
Please allow a Sunshine State shout-out to my fellow Floridian Bob Loring, whose review of Lucky 666: The Impossible Mission, adds to his prolific list (more than 100) of Leatherneck bylines.
Hopefully our annual conference in San Diego in August is where you'll meet some of today's warrior-scribes and shooters whose photo credits and/or bylines also appeared in the current edition: Cpl. Kelsey Dornfield, Sgt. Ian Leones, Cpl. Melissa Martens, Cpl. Thomas Mudd, Cpl. Harley Robinson and Cpl. Daniel Jean-Paul.
Also: Sgt. Ian Ferro, Cpl. Jessica Collins, Lance Cpl. Justin Bowles, Lance Cpl Andy Martinez and Sgt. Clemente Garcia.
In San Diego, two professional panels of special interest to our active duty Marines are very much in the purview of Leatherneck, both historically and in terms of today's Marine Corps Association and Foundation staff: "Life After the Corps" will address civilian job possibilities in journalism, PR, marketing, imagery and other aspects familiar to combat camera and public affairs Marines.
And "Special Media Outlets" seeks to rekindle an old fire, i.e., the importance of reaching out to military-oriented organizations and their outlets (print, video, web-based and in-person) who are hungry for our active duty CCs' copy and images (and/or their presence!).
— Keith Oliver, USMCCCA President